rethinking domains
Find the domain worthy of your next big thing.
Supercharge your domain research and stop experiencing outdated players, too many TLDs, and shitty results.
↓ Let's rethink how we do it. ↓
---
65 TLDs ⬒
A curated selection of extensions from more than 1000+ available. Alongside 10 of the latest blockchain domains + you can add any you like.
---
Domain Availability ✓
See any domain's availability straight in Airtable by making use of the scripting feature and a prepared API call with the click of a button.
---
Automatic Filtering ↕
Decide which domain names are your favorite and which ones you want to discard. All by simply changing the Airtable view.
step 1
Input any name.
You've got a name, but it might not fit.
Play around with its origin and smart suggestions.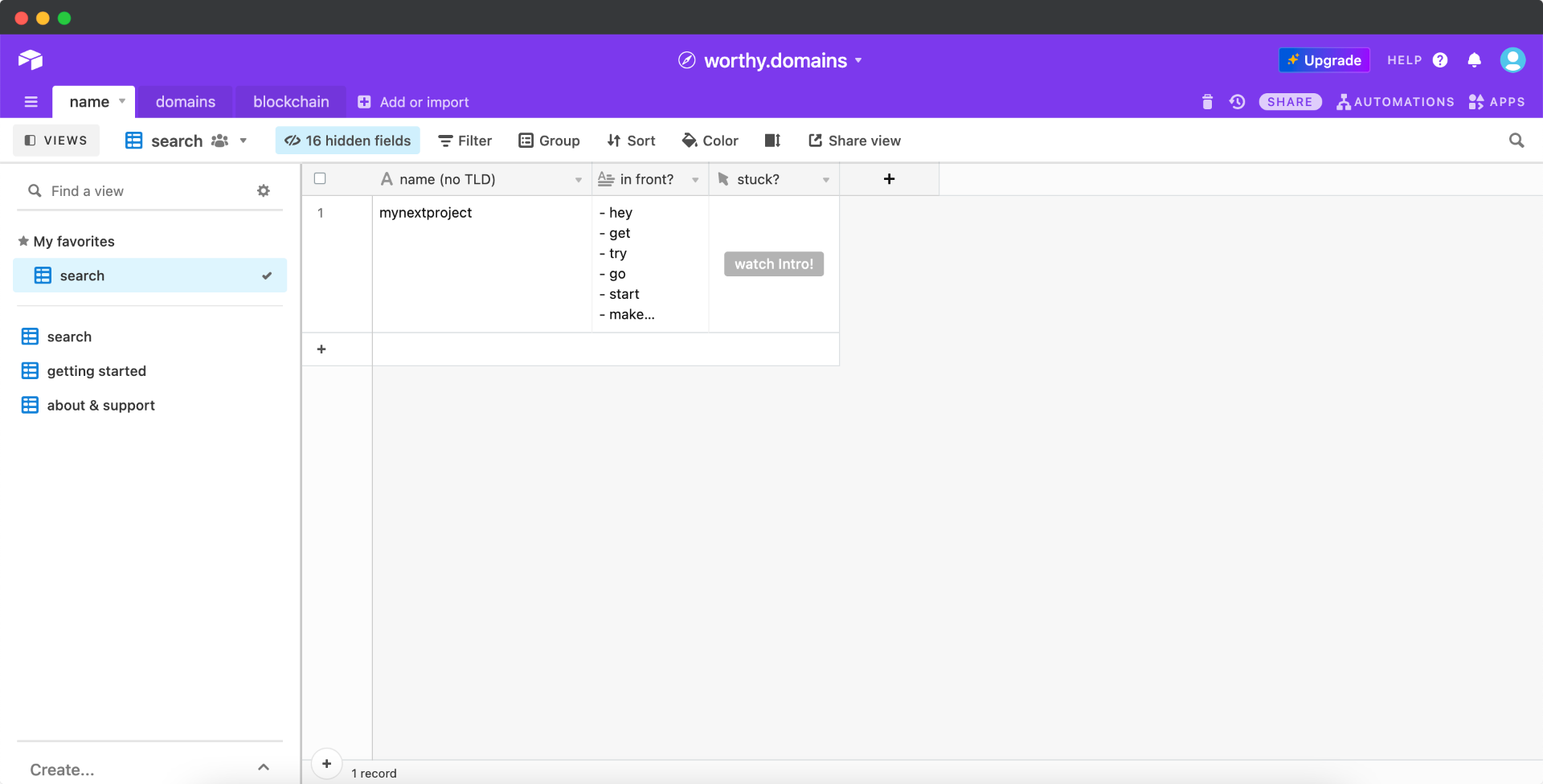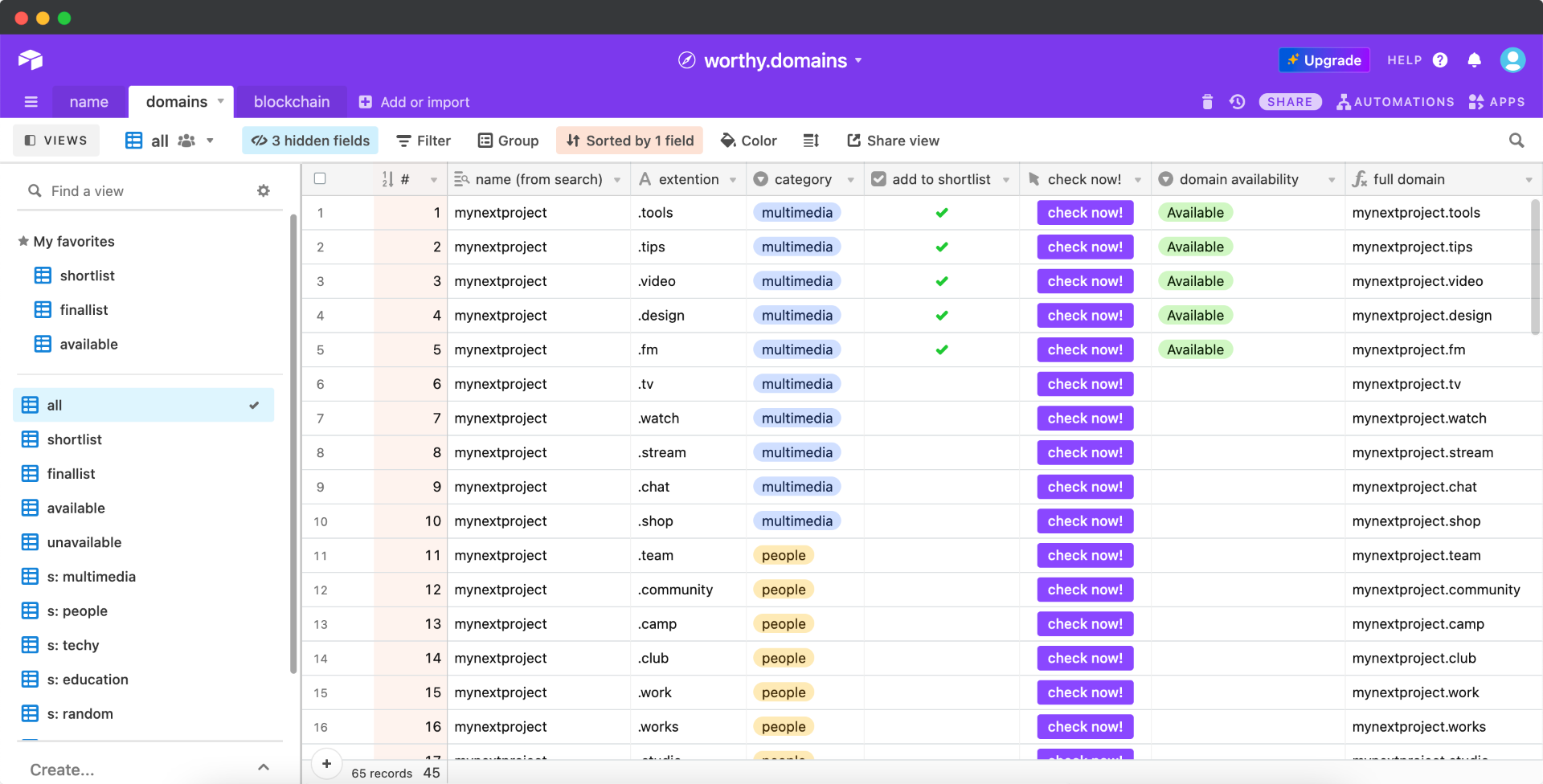 step 2
View all 65 TLD results
at a glance.
Go about your domain research systematically by categorically selecting which domains are most relevant.
step 3
Sort, check availability and buy instantly.
By short, final-list, and more. Narrow your domain search and check the availability of your domain. Then buy it instantly.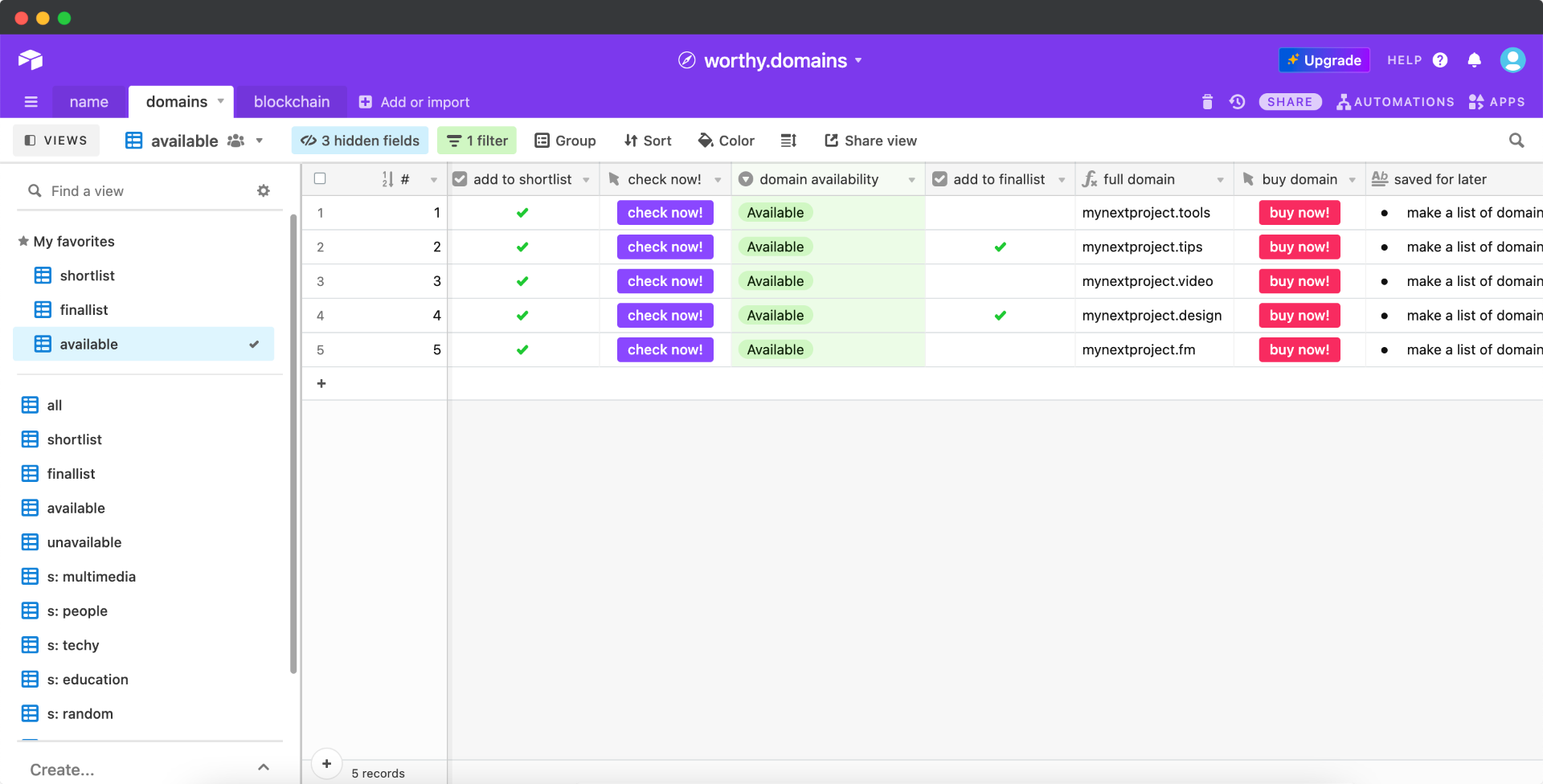 one system
Get a system for your
domain name decisions.
Researching domains is extremely annoying in 2021. You mostly have 2+ open tabs and multiple different searches to find the domain name you want. And even then you won't. Because the good ones are always buried deep in the web or not even suggested to you by the big domain providers. Not anymore!
airtable only
FREE
Get all features apart from the ability to make API calls.
This does not include availability checks.
3 Related Tables in 1 Airtable Base

65 of the finest domains (+ any you want)

10 of the latest blockchain domains

Filter and sort automagically

Instantly buy your domain
airtable + API
$5
Get all features including the ability to check domains for their availability. Without ever leaving Airtable (limited to 20 copies at $5 and after $10).
All of FREE

+ Custom Script to make API calls and instantly check the availability of your domain (only available for Airtable Pro w. Scripting Features from September 2021 - trials and student discounts available).
Be in the know
This is just an intro product for something big.
Not sure if you need it? No problem. I will keep you up to date ↓
Thank you!
You will be kept in the know for worthy.domains.
Please consider spreading the word on Twitter ↓